Maintaining indoor comfort in buildings accounts for more than 30% of total energy use worldwide – smart control of building energy use can contribute greatly towards energy sustainability goals. This is an important part of the RES4BUILD project which is looking at renewables for clean energy buildings in a future power system.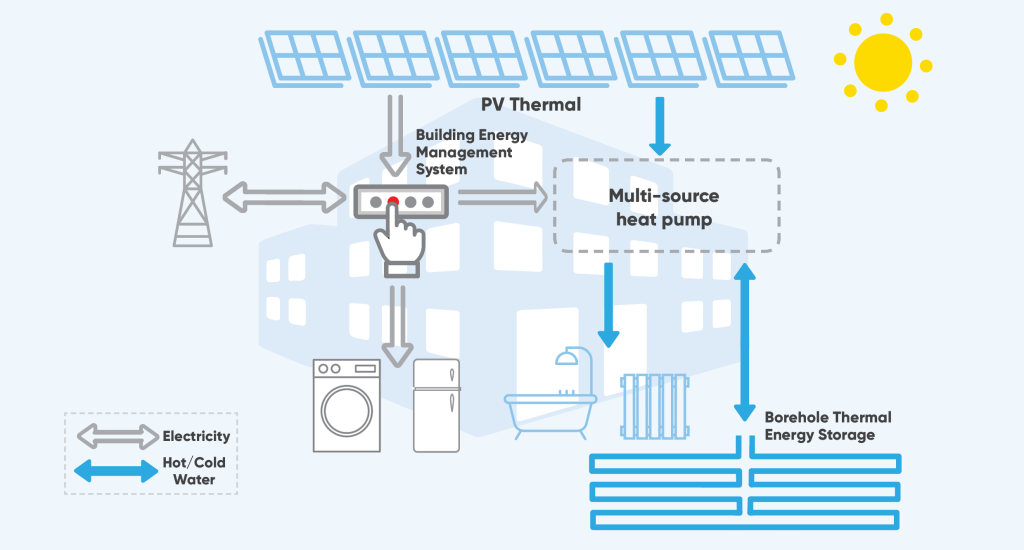 Smart Control with Models
A big advantage of well insulated-buildings is that they take a long time to lose stored heat and can therefore be used to a certain extent to store heat. For example, a building equiped with solar panels and a heat pump can potentially be heated when electricity is generated from the solar panels. There is no need to use the heat pump and any excess generation can be stored. To achieve this level of control, we need to understand the components involved, and do so by modelling their behaviour. The models can then be used to predict the system's behaviour in various scenarios and optimally control it.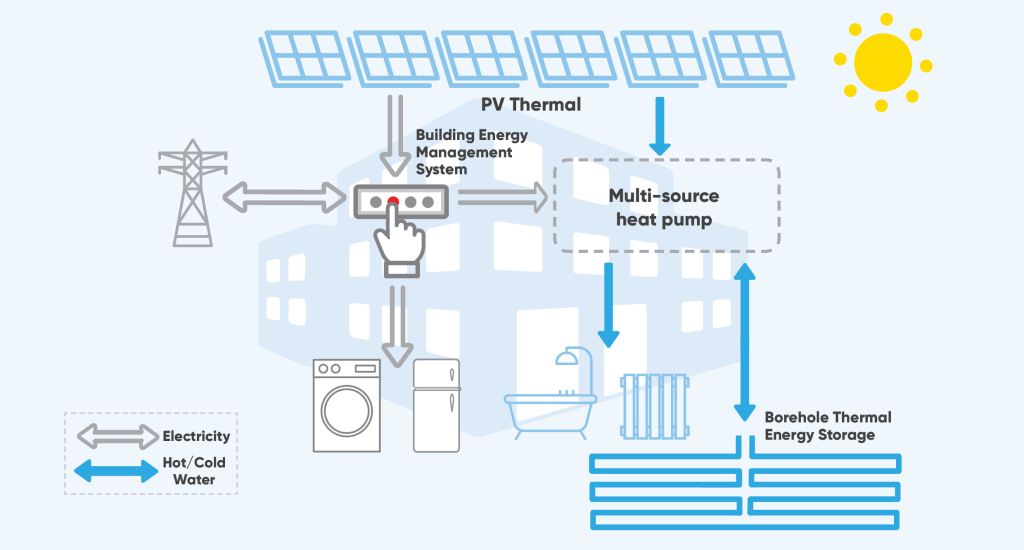 Their Use in RES4BUILD
This is an important part of the RES4BUILD project. The Consortium is developing integrated energy solutions that are tailored to the needs and requirements of users. Partners VITO-Energyville and NCSR Demokritos are modelling the behaviour of the RES4BUILD components to optimise their performance. This includes heat pumps, solar panel yields, long- and short-term heat storage and the building's thermal mass. Using "grey box models", the various physical components are grouped and then data is collected from in-situ sensors. Values are identified and a predictive control is applied for optimisation. This allows for example steering the building to consume more energy when renewable generation is higher.
In this way RESBUILD is implementing a much more involved optimal control to steer a building connected to innovative technologies. In this case the technologies are heat pumps, solar-thermal generation and borehole thermal energy storage. These models will be run for several case studies in three countries across Europe. The outputs allow stakeholders to make informed decisions about their energy system to suit their needs, while also supporting the design and application of the system.
More Information
Details on the numerical models used to date have been added to the Horizon Results Platform. Further information on associated outputs such as scientific publications are available on the project website. Follow RES4BUILD on twitter for regular updates.
This project has received funding from the European Union's Horizon 2020 research and innovation programme under Grant Agreement No. 814865 (RES4BUILD). This output reflects only the author's view. The European Climate, Infrastructure and Environment Executive Agency (CINEA) and the European Commission cannot be held responsible for any use that may be made of the information contained therein.
Article originally published in European Energy Innovation Autumn 2020 edition.
RES4BUILD will decarbonise the energy consumption in buildings by developing integrated renewable energy-based solutions that are tailored to the needs and requirements of users and installers. The consortium works to: Improve the performance and reduce the cost of the most innovative components of the RES4BUILD solutions; Develop tools for simulation, sizing and control, making optimal use of integrated energy systems and the flexibility of consumption, while respecting the wishes of end-users; Engage all relevant stakeholders in an interactive process to co-design integrated energy systems that suit current needs and future expectations; Test and validate various RES4BUILD solutions in different climates; and Pave the way for bringing the developed solutions to the market using rigorous life cycle assessments to measure their real impact, ensuring wide adoption.
Project details
Project title: "Renewables for clean energy buildings in a future power system" (RES4BUILD)
Funding scheme: Horizon 2020 Research and Innovation Action – H2020-EU.3.3.2.
Duration: 4 years (1 May 2019 – 30 April 2023)
Project coordinator: Wirtschaft und Infrastruktur Gmbh & Co Planungs Kg (WIP)
Project website: www.res4build.eu