Policymakers and stakeholders need a manageable tool to reduce the complexity of different design options. The EU-funded POLIMP project has provided a practical criteria matrix to assist policy makers and relevant decision-makers in evaluating and comparing different proposals for the 2015 Agreement. Several important results of the analysis of Parties' submissions are given.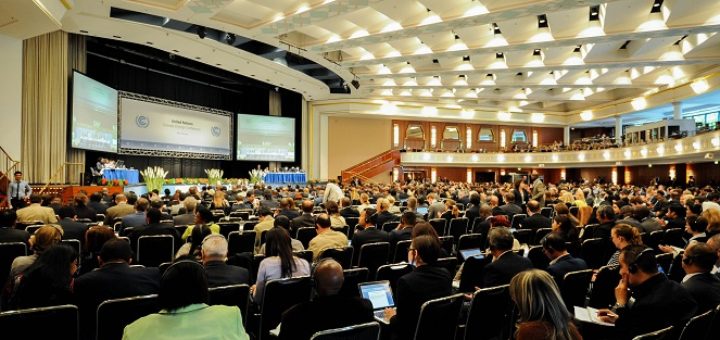 The international community has come up with numerous and often complex suggestions for the design of a new climate agreement to be adopted during the 21st session of the Conference of the Parties (COP21) in Paris in 2015 ('2015 Agreement'). These design options are currently being discussed under Workstream 1 of the 'Ad-hoc Working Group on the Durban Platform for Enhanced Action' (ADP) by Parties to the UNFCCC.
Given the complexity of the different design options, policy makers and stakeholders need a manageable tool to reduce this complexity. The EU-funded POLIMP project has provided a practical criteria matrix to assist policy makers in evaluating and comparing different proposals for the 2015 Agreement (Criteria for Evaluating Climate Policy Scenarios, PDF).
A wide array of academic studies has already proposed requirements that a future international climate agreement, or climate policy more broadly, would need to meet. Among the most commonly proposed criteria are 'environmental effectiveness', 'level of ambition', 'participation and inclusiveness', 'cost-effectiveness and investment implications', 'equity', 'compliance', 'institutional feasibility', 'political acceptability' and 'systemic coherence'. However, the definitions of the proposed criteria often lack the necessary clarity to be a useful tool in practice. Even more importantly, many scholars conducted a mere academic exercise but failed to consider whether the criteria were embraced by the relevant decision-makers, i.e. Parties.
Criteria that are relevant for the design of the 2015 Agreement are first and foremost those that are embraced by Parties to the UNFCCC, given that these will need to reach consensus on the arrangements. This paper thus analyses to what extent the criteria proposed in literature find support among Parties, also identifying whether relevant criteria have been omitted in literature. The analysis is based on a screening of submissions by the main Party groups to the ADP – Workstream 1 and assesses whether Parties use specific keywords identified in the literature analysis, such as 'equity', for example. Additionally, submissions are read in the light of common 'codes' used by Parties in the climate negotiations and are interpreted accordingly.
Important results of the analysis of Parties' submissions are the following:
Some of the criteria, for example 'political acceptability' or 'systemic coherence', regarded as crucial in literature are not reflected in Parties' submissions;
Other criteria, including 'level of ambition' or 'participation' are widely reflected in the submissions and are defined similarly by Parties while other criteria such as 'equity' are often reflected in the submissions but with different underlying interpretations;
Party submissions reveal additional criteria that are not reflected in the analysed literature. These additional criteria are: 'assisting the vulnerable', 'durability' and 'flexibility';
Some criteria identified in literature are umbrella concepts rather than individual criteria. One and the same term, for example 'equity', can mean very different things to different Parties, signalling that the criterion might not be specific enough to guide the assessment of design options. Thus it is advisable to split up some of the discussed criteria;
Several criteria are interconnected: Some criteria such as 'differentiation according to historical responsibility' and 'differentiation according to evolving responsibility' might be mutually exclusive to a certain extent or involve trade-offs; Other criteria might be mutually enforcing: a high level of active participation, for example, might – in the view of some countries – contribute to a more equitable approach.
Based on these results, the paper has suggested a criteria matrix. Design proposals for the 2015 Agreement can score low, medium or high for each individual criterion. Awarding a high score to one criterion does not necessarily imply that this is a good result.
In fact, such a judgement lies in the eyes of the beholder and his/her priorities and preferences. Overall, the listed criteria do not point to the optimal outcome but rather make the features or attributes of different design options more explicit. Applying this matrix to proposed governance frameworks can assist policy makers to compare the features of the proposal to their preferred negotiated outcome, and to identify common ground with other Parties' preferred options. In view of the advancing negotiations under the ADP and the short time frame until the expected adoption of an agreement in Paris in 2015, this matrix appears timely.
The report, prepared by Lena Donat, Ennid Roberts, and Matthias Duwe of the Ecologic Institute in Berlin, can be downloaded via the POLIMP project website: Criteria for Evaluating Climate Policy Scenarios, PDF.
---
This report is an output of the EU-funded POLIMPproject on 'mobilising and transferring knowledge on post-2012 climate policy implications'.

The POLIMP project aimed at identifying, where knowledge gaps exist, of what future international climate policy directions may look like and what these imply for policy and decision makers internationally and within the EU. It is acknowledged that much information is already available for these stakeholders but the way the information is presented is often difficult to access, not in the right format or otherwise of limited use for stakeholders. POLIMP first identified what information about climate policy making and its implications is needed by the different stakeholder groups, then collected this information from various different sources and offered it to stakeholders in desired packages, in intuitively easy formats and clear language.
Project details
Project title: "Mobilising and transferring knowledge on post-2012 climate policy implications" (POLIMP)
Funding scheme: European Union Seventh Framework Programme (EU FP7, grant agreement no. 603847)
Duration: 3 years (1 May 2013 – 30 April 2016)
Project coordinator: JIN Climate and Sustainability, Groningen, Netherlands
Project website: www.polimp.eu